Noe Valley is a small neighborhood, which makes it perfect for taking a tour on foot to see historical buildings, cafes and views of the city.
For the adventurous outdoorsy type, walking tours in Noe Valley provide a creative way for people to experience architecture, history and food.
From small trips through local neighborhoods, to large treks in Golden Gate Park and the Presidio, self-guided walking tours can take people to places a tour bus can't go.
In San Francisco, walking tours are becoming more popular as a way to deviate from the large, obnoxious, tour bus. Locals and tourists a like can enjoy them as well.
There are two types of walking tours: Self-guided, or not self-guided. The following tours are self-guided but there are many guided walking tours in Noe Valley.
The main company that conducts tours in Noe Valley is San Francisco City Guides. According to Deborah Anaya, the SF City Guides has been doing walking tours all over the city for 40 years—they just celebrated their anniversary this year. Anaya is a new guide to Noe Valley walking tours. She chose Noe Valley because she's familiar with the area and also loves the history. Each tour guide adds their own flair to their route. Toward the end of Anaya's tour, she brings the group to the Axford house, a historical landmark on Noe St. that was built in 1877.
"The Axford house actually, architecturally, has a lot of pieces of different types of architecture, so at that point, the people on the tour can identify the different elements on the house that remind them of the types of architecture that we've talked about," she said.
Anaya concludes her tour at the corner of Sanchez and 24th streets and gives an overview of the history of 24th St. with an emphasis on the 1906 earthquake and fire.
Pamela Dekema has been a tour guide for SF City Guides for 10 years and has lead about 25 tours so far. Her primary interest is in history and architecture.
"On 24th between Diamond and Castro there's a Barney's hamburger place," said Dekema. "Barney's is not what I really want to look at. What I do is I stop across the street, I point out Barney's only in order to tell people, 'look at that house to the right of Barney's', because it is this absolutely gorgeous, 1900, yellow Victorian."
"Noe Valley is a much more obscure itinerary than other places in the city," Dekema said when asked what types of people attend the tours. She mentions that many of the people on her tours sought out Noe Valley specifically because they either had family there or had a special interest in the area.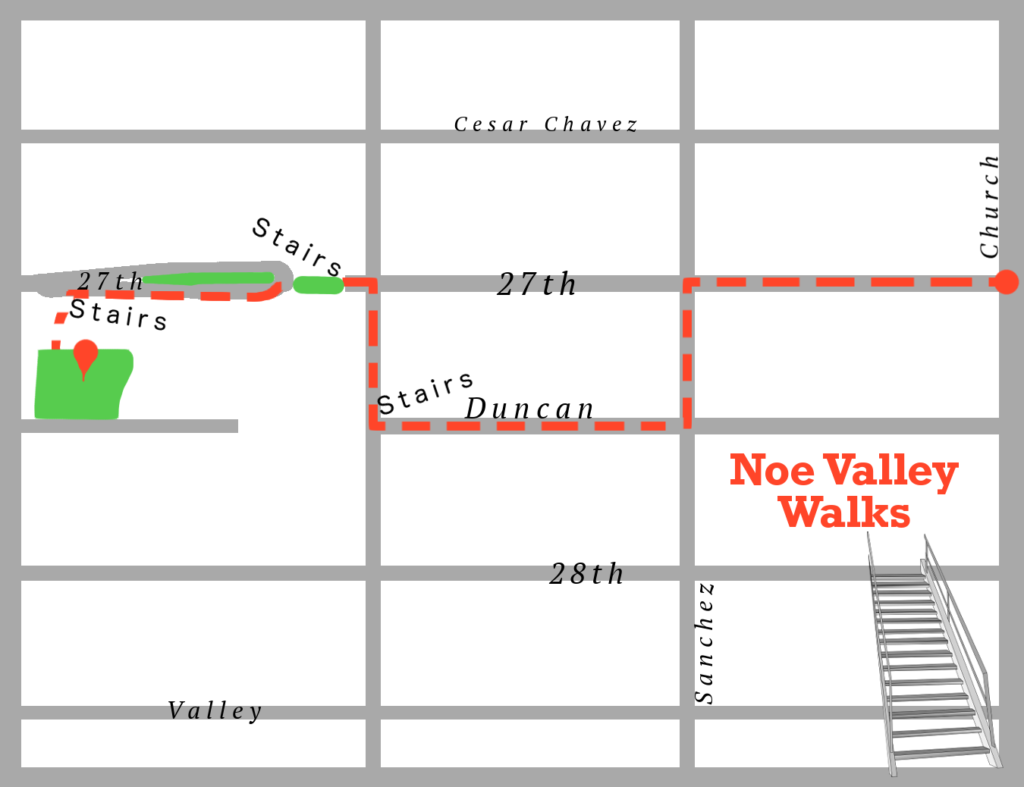 Three Flights of Stairs and a View
This walk begins on Church and 27th streets, near the J stop. The walk takes people up many hills, and a few flights of stairs to the Castro-Duncan Open Space—a small green area on top of a hill with a great view.
Walkers head up 27th toward Sanchez, take a left and then take a right on Duncan St., which is a dead end. At the end of Duncan there's a flight of stairs. From here, people can see a great view of the surrounding neighborhoods and the bay in the background
Once up the stairs, walkers take a right on Noe St. and head towards 27th. At the top of 27th is the second set of stairs. The stairs are a dark brick color and surrounded by green vegetation and a few trees. At the top of a stairs is a roundabout with a meridian strip in the middle. Walkers need to make sure to head to the left, slightly up a hill, and along a narrow path toward to final set of stairs.
The last stairway is wooden and leads to a large pathway and a short hill that goes up to the grassy area of the Castro-Duncan Open Space. It's small, with only one bench, but has an amazing view of the surrounding neighborhood, Sutro Tower and the bay.
Featuring six beautiful homes built in the late 1800s to the early 1900s. This walk takes people from 163 Jersey St. all the way to 3649 22nd St. Each house has a unique history.
The Timothy and Ellen Nyhan residence at 163 Jersey St. was first built in 1885 in an Italianate style. It has ornate molding on the facade, which are actually similar to houses built in the 1870s. Some historical speculation has thought that perhaps the house was moved from a previous location and built earlier than 1885.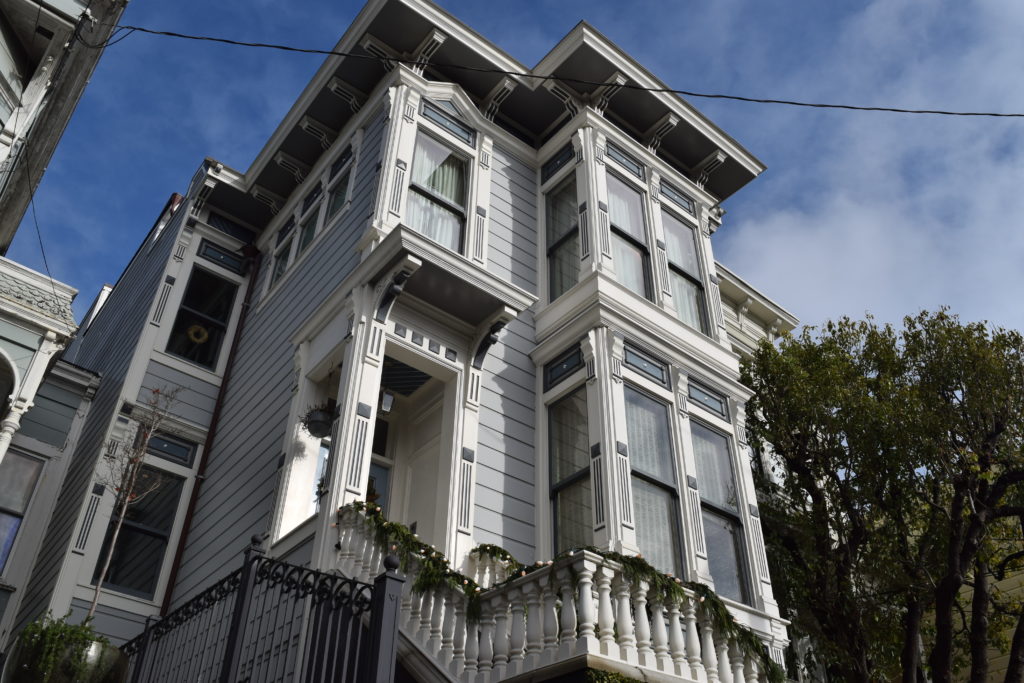 436 Elizabeth St. was once the home of Mabillan William McMillan. The home was constructed in 1890 by McMillan himself when he was only 28 years old. The building is a classic San Francisco row house built in a Victorian style. It has been remodeled in the last decade. The homeowners made sure that the wood on the outside matched the Stick Eastlake style.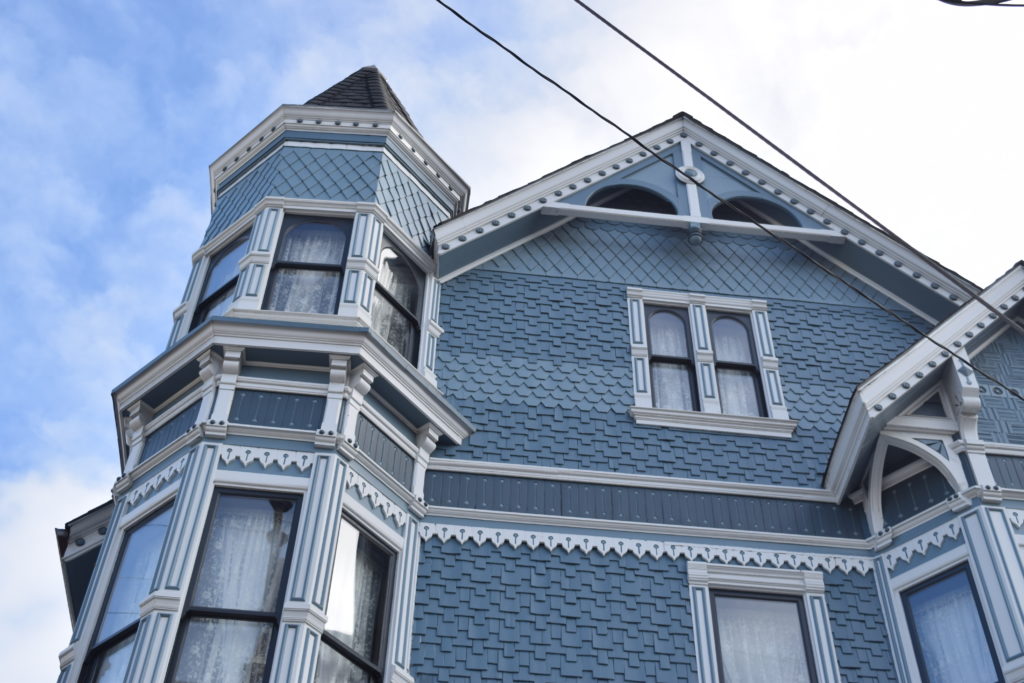 Up next is 1053 Noe St., once the home of Benedict and Anna Pfarrer and was built in 1891 by the owner. The beautiful Queen Anne Tower house sits on the corner of Noe and Elizabeth streets. The house is one of just 370 homes in the Queen Anne tower construction style, making it unique in San Francisco.
449 Alvarado St. was built in 1897. The house is a mix of Queen Anne and Classical Revival styles, with a large staircase and front porch.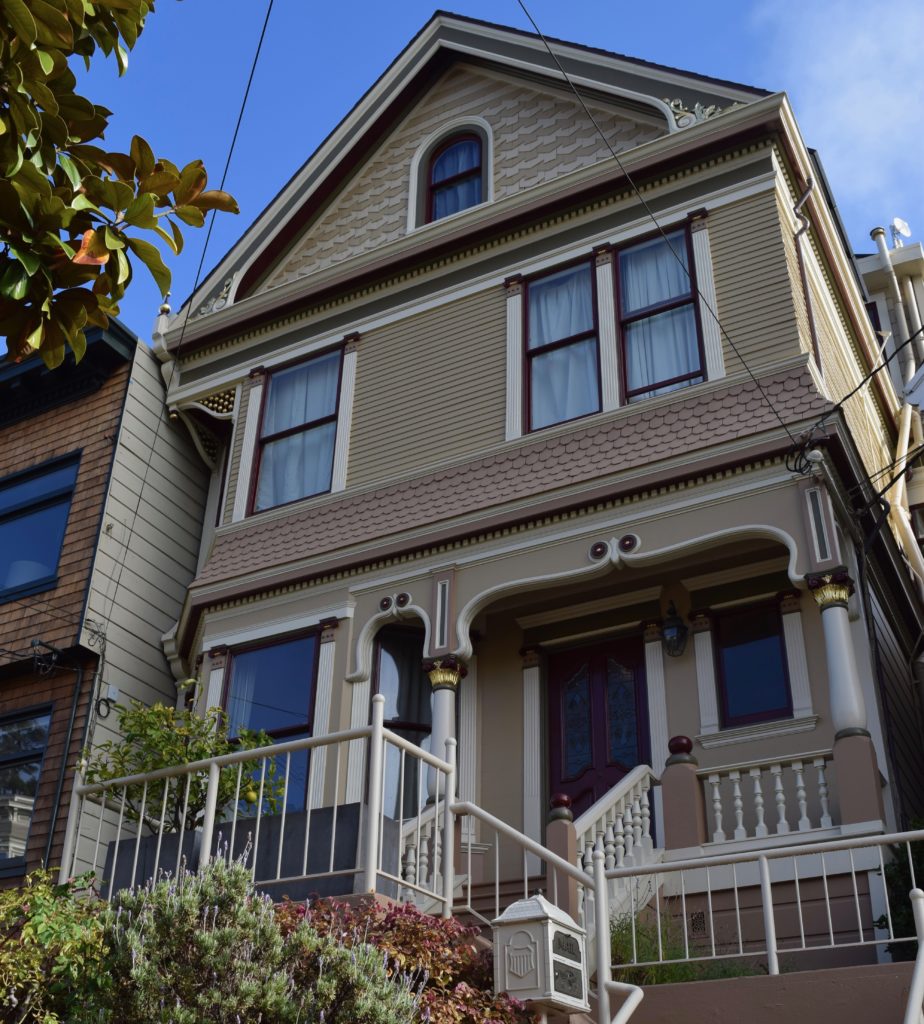 The next stop is 61 Vicksburg St., a beautiful Queen Anne and Classical Revival home built in 1898 and first owned by Charles and Annie M. Ruling. Similar to the previous house in style, this home has Ionic styling and porch spandrels. The house has been undergoing a slow renovation, as many old homes do.
The final house in the tour is 3640 22nd St. Also the youngest house, built post-earthquake in 1907. The classic Arts and Crafts home is situated on one of the many hills in Noe Valley. Some elements, such as the colored glass and enclosed porch, may have been added after its original construction.
There are many historic houses on the SF City Guides tours as well. Many of them are the classic San Francisco row houses that almost look identical.
"When you first glance at them, the houses look like they're the same, you know, they were cut out of cookie cutter ideas," said Dekema. "In reality, people got to choose what kind of trim they would have." Additionally, the first owners of many homes sometimes got to choose what floor plan they wanted in their home
The Cafe Crawl
There are many popular cafes on 24th street in Noe Valley. On nearly every block there's a cafe including the chains Starbucks and Philz. The three notable, local cafes are Martha and Brothers Coffee, Bernie's Coffee, and Diamond Cafe.
Martha and Bros. first opened in 1987 with its first location in Noe Valley. Similar to many San Francisco cafes, Martha and Bros. is aimed at providing top notch coffee in a local setting. The cafe was opened by three siblings who grew up on a coffee plantation in Nicaragua. They have since opened three additional cafe locations in the city.
This is the first cafe on the tour because it's closest to the Church street J stop. The cafe sits right across the street from the Noe Valley Town Square and has outdoor street seating with planter boxes. The inside has tall ceilings and a warm atmosphere. The counters are covered with home-baked goods.
The second cafe is Bernie's Coffee. Located in the basement of a light blue Victorian right next to Whole Foods, Bernie's is a cozy cafe with plenty of natural light. The inside is populated by three large community tables and a few cushy armchairs. They have a display case with baked goods and sandwiches.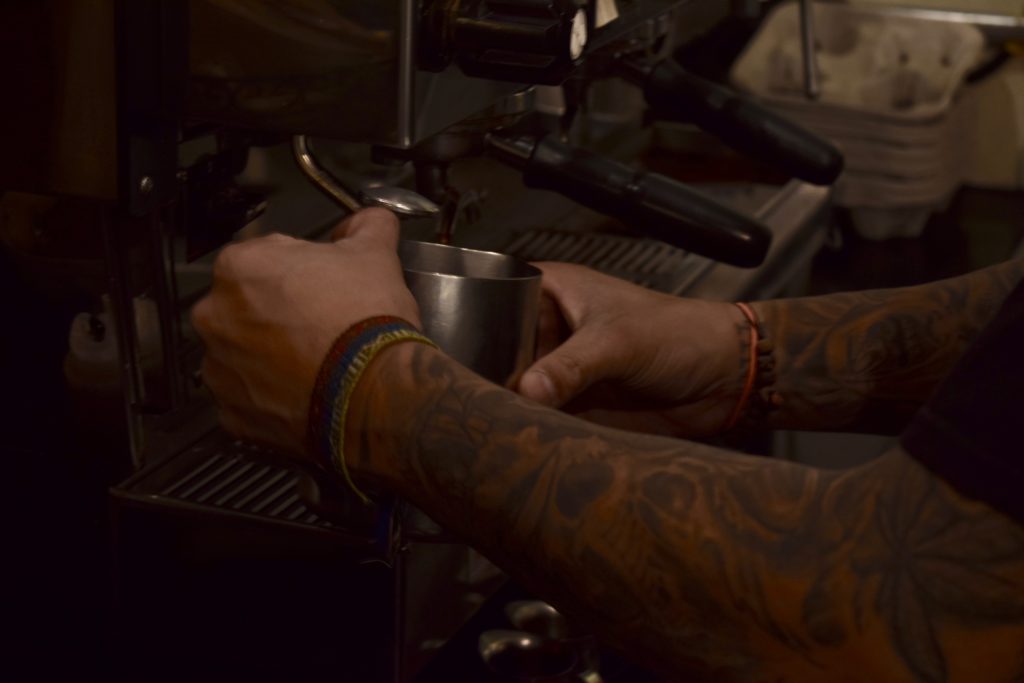 Bernadette Melvin opened Bernie's Coffee in 2007 and the business has grown to be a classic neighborhood spot. Bernie's is the type of cafe where the owner and baristas know many of the local customers and it fosters a real family feel.
Third, and last, on the cafe stop is Diamond Cafe. Situated on the corner of Diamond and 24th streets, Diamond Cafe serves coffee and smoothies as well as a wider variety of food such as sandwiches, scrambles, bagels and crepes. The cafe has great natural light and comfortable booths inside. It also has outdoor seating on the wide sidewalk with little tables and a few large planters.
This walk is designed to introduce people to the local cafes of Noe Valley, but each cafe can be added to another tour if a walker feels they need a coffee or a bite to eat.
All photos taken by Malakai Wade © 2018
Additional sources:
San Francisco City Guides (SFCG). Noe Valley: A Village Within the City. Found at http://www.sfcityguides.org/desc.html?tour=55
Martha and Bros. Our Traditions page found at https://www.marthabros.com/pages/our-traditions
Bernie's Coffee About section found at https://www.facebook.com/BerniesCoffee/
The Victorian Alliance of San Francisco Annual House Tour. Noe Valley-Hornder's Addition Program and Guide. 21st October 2007.
City and County of SF Planning Department. San Francisco Historic Landmark Map. Found at https://sf-planning.org/San-Francisco-landmarks-map
San Francisco City Guides (SFCG). City Guides Overview. Found at http://www.sfcityguides.org/overview.html